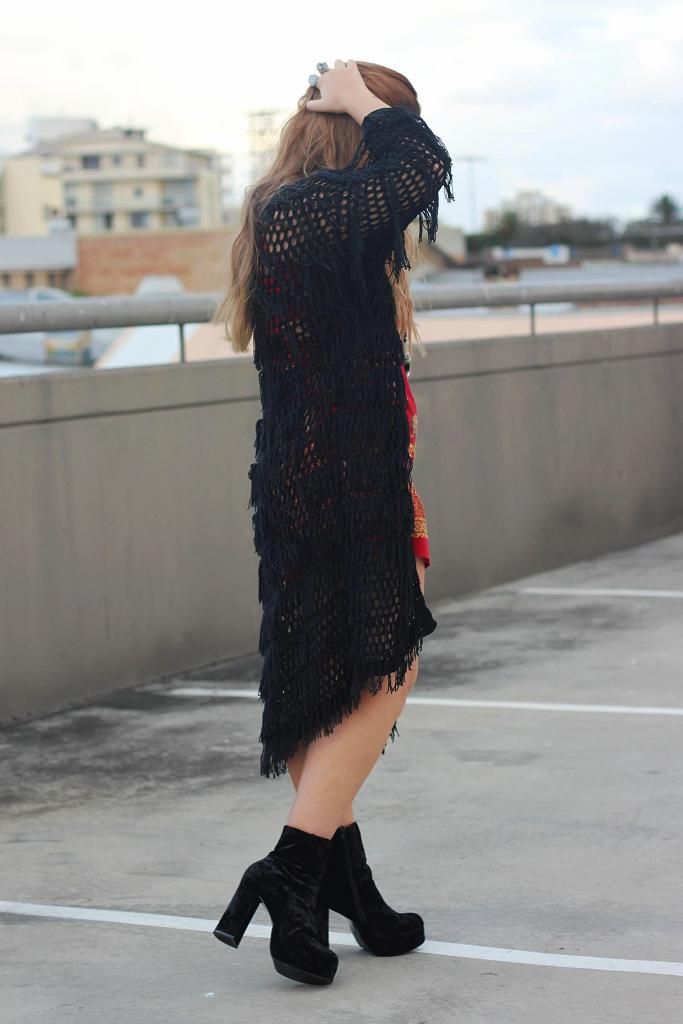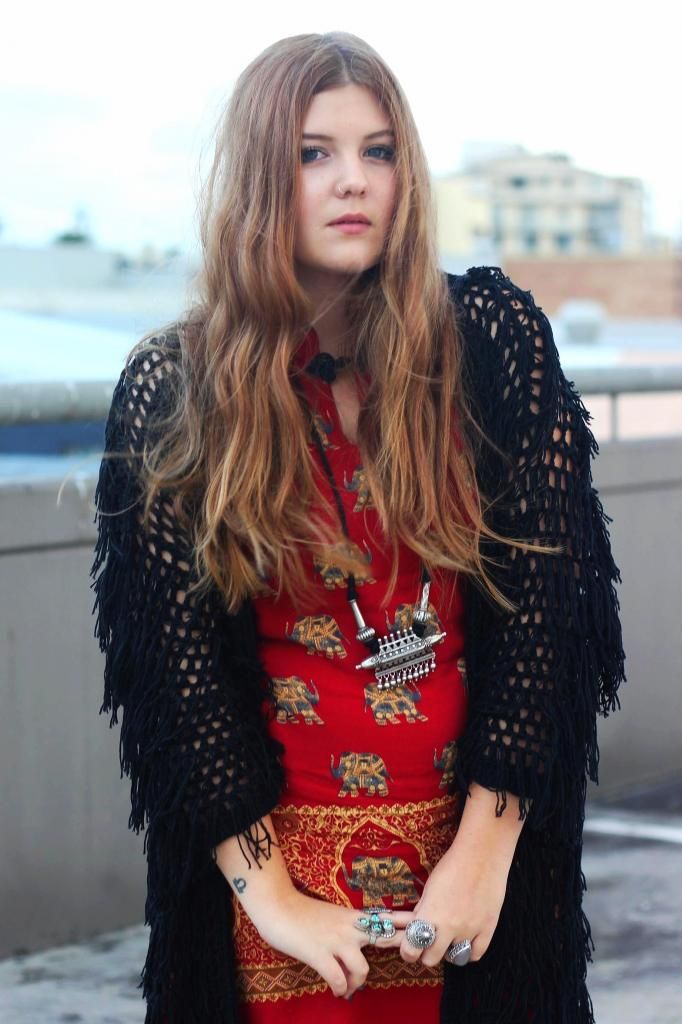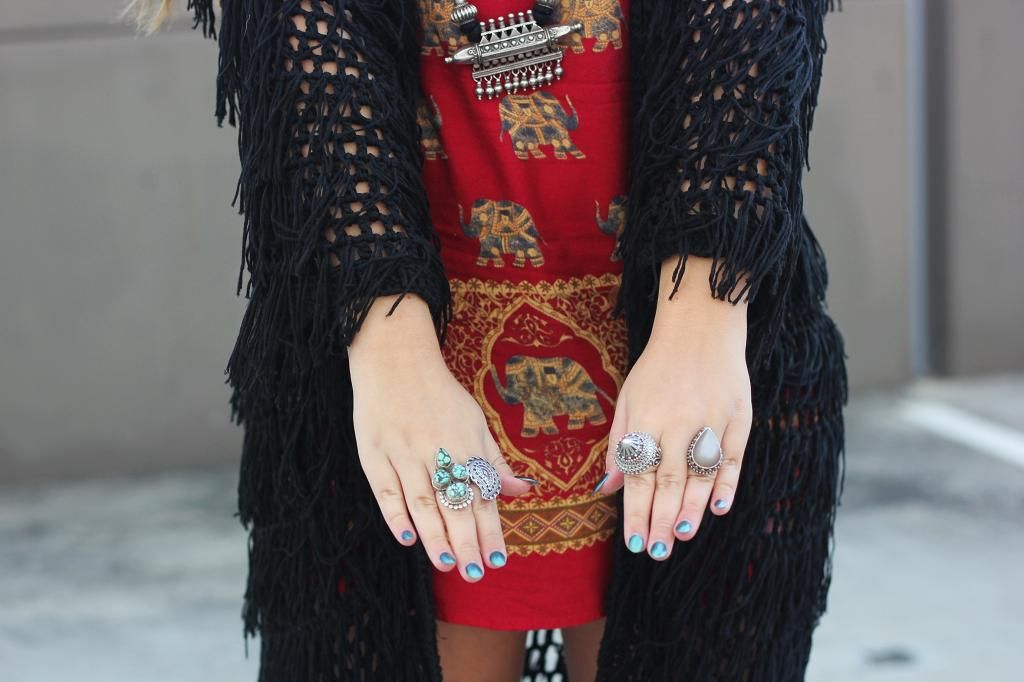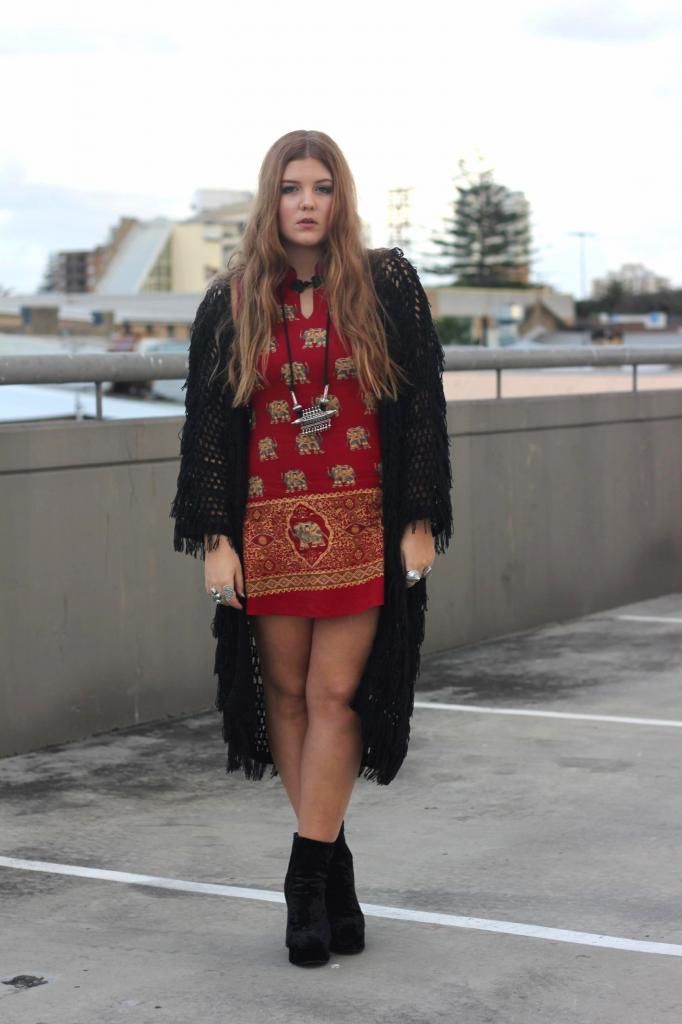 Wearing: Vintage/secondhand dress & cardigan, eBay Deena & Ozzy velvet boots, Assorted jewellery
Apologies for the quality of these photos, I got a new camera lens (Canon 50mm f/1.8) from my Dad for my birthday and I'm still in the process of trying to figure how to get the best photos possible! Not to mention the fact that I kind of palm off my camera to my closest participant/victim and expect them to know how to use it straight away... Kind of teaches me to not have such high expectations, eh?
But I really love this outfit! I tried to take a variation of it a few weeks ago and again the photos were sub-par (thinking about it, my camera probably needs some readjusting or a complete reset) but I found this dress - which looks super similar to
this skirt
that I thrifted, the same pattern which Mink Pink ripped off a few years ago - in an opshop in Bendigo whilst I was on holidays in January. The cardigan, that I've affectionately labelled the 'Yeti' hasn't come off my body since I bought it a few months ago because it's so perfect, and I scored it at Surry Hills markets. And my boots were a total fluke I won off eBay for $15! And boy do they have a story.
Four years ago, I'd started my first job to start saving for my holiday to the U.S later that year. I was slowly becoming obsessed with the texture and look of velvet, and one day through my online-window-shopping trawl I stumbled upon these beauties on Urban Outfitters. At that point, online shopping was still kind of new and shipping prices were ridiculous to Australia. I mean these beauties were $20 + $50 shipping. No way was that happening on my $6 per hour wage. So I let them slide on by and ever since then I've been suffering from a lot of buyers remorse. BUT NOW I HAVE THEM AND THEY'RE PERFECT IN EVERY WHICH WAY IMAGINABLE!